Online Chinese Classes – Are They Better for Your Child Than a Traditional Classroom Setting?
Online classes and traditional classrooms both have their place as you figure out the best way for your child to learn Chinese. Even if you are a parent who has decided that non-digital upbringing is the best for your kid, it is still a good idea to allow your child to be exposed to positive uses of digital at an early age. You and your child get a lot more than just convenience from learning using an online platform.
Online learning platforms open the door to a more personalised, more engaging and trackable learning experience. What is more, accessing such a fun and transparent learning experience has become a lot more economical thanks to the prevalence of e-learning technology today.
Small online class sizes makes learning attentive and personalised
Kids at the same age may have different language proficiency levels and learning needs. Traditional classrooms, on the one hand, may work well for those who require minimal guidance and whose learning pattern is compatible with the instructor's teaching style. On the other hand, kids who value more individual attention or interaction will tend to find such classes stressful or boring. This is a common reason underlying statements from kids like "Mummy, can I not go for tuition?"
Our online learning platform enables class sizes to be kept small (1-to-1 or 1-to-4 small class size ratio). This fosters greater participation and interest for your child, as the pace of the class is tailored to meet your child's needs. The individual attention from the teacher helps the child gain confidence in picking up the Chinese language in a much more natural way than a traditional classroom setting, where peer-pressure sometimes causes children to clam up instead of learn effectively.
Online learning platforms also removes the logistical barriers in accessing teaching talents. Your kid could reach any teacher anywhere in the world as long as you are connected to the internet. At LingoAce, we have access to 2,500 3,000 passionate, professional native Chinese-speaking teachers. After signing up for your free trial class, our Course Consultant will get in touch to learn about your child's Chinese proficiency, goals and your expectations as a parent. A personalised learning plan will be developed just for your child, along with our recommendation on the most suitable programme and teacher.
Online Is The Perfect Medium For Fun Chinese Language Learning
Imagine learning a language through rote learning and memorisation of unintelligible characters, for the sake of sitting an exam. Where is the fun in that? It is going to be very hard to motivate a child if there is no fun in learning. When their learning becomes a stressful experience, children find it boring and push away the subject.
Even in a traditional classroom, teachers have turned to the usage of audio-visual materials in order to make lessons less dry and boring. Textbook learning no longer cuts it in modern education.
This is where we are a few steps ahead.
Our online learning platform has been planned with the usage of interactive audio-visual at the core of our lessons. The synchronised use of pictures, animations and sounds makes learning of Chinese a rich and rewarding experience.
Every lesson at LingoAce is packed with audio-visual tech that makes learning of Mandarin Chinese fun! By catering to kids' visual and auditory senses, we help them gain interest in picking up the Chinese language in a very engaging way.
We also help our students engage with the coursework with world-class multimedia, animation, and gamification technology. What used to be boring homework that children avoid, becomes a fun, engaging experience that they look forward to completing.
With this type of modern, well-planned lessons, our learners feel like the grasping of the language becomes easily within their reach.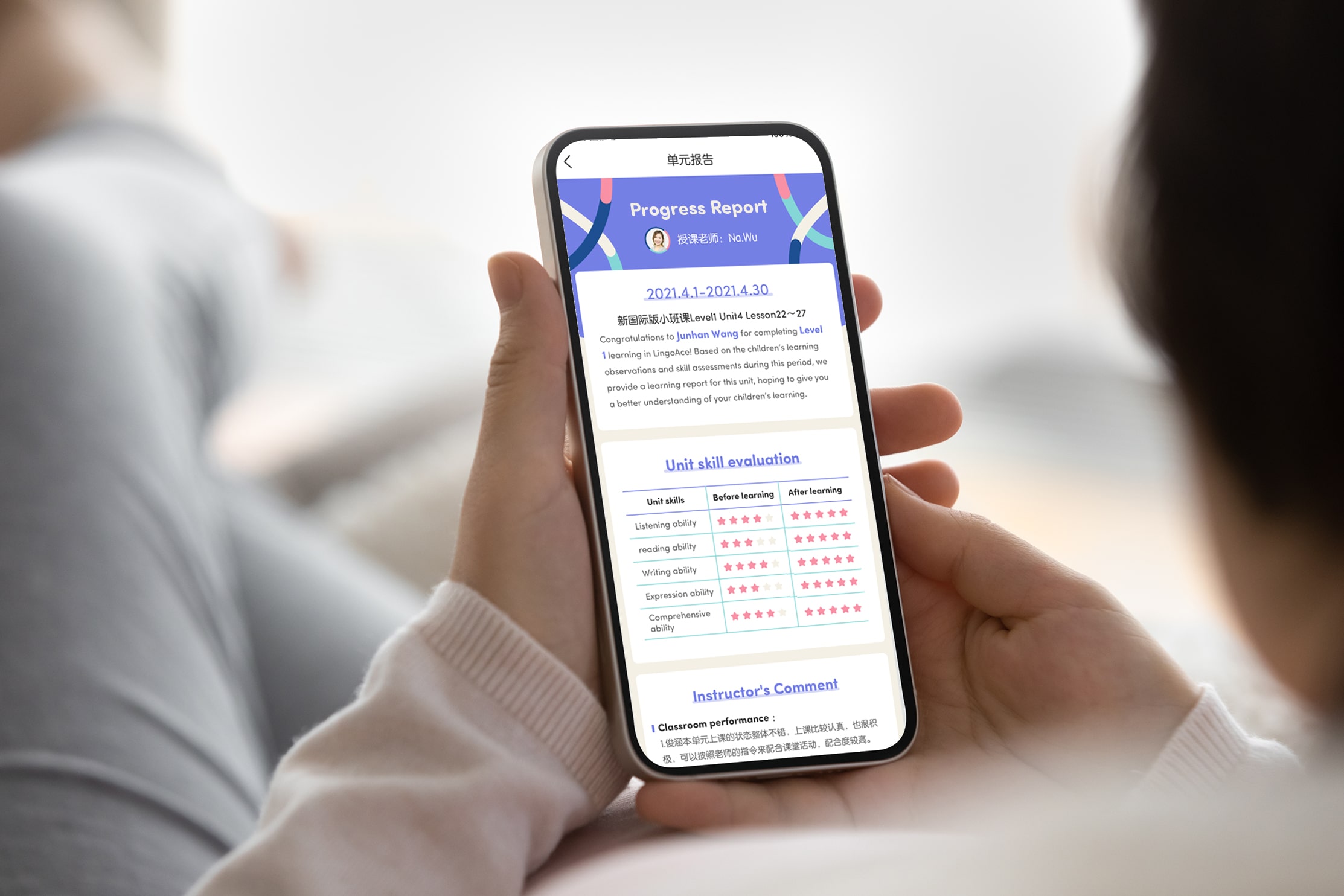 Online is Trackable! That translates into real-time feedback and class improvement
Our online learning platform revamps on how tracking of learning progress is done. Data of the students' activities on our learning platform can be analyzed in an instant and with high level of granularity. This translates into timely and granular feedback, which is a constructive component for your child's learning.
At LingoAce, we prepare regular and detailed progress reports with video playback of all lessons to track learning improvements. Parents will receive updates from a dedicated learning advisor. Parents could also tune in live to the classes through a parent app that streams the classes live. This is done without any disruption to the classes and without distracting the child, as children do not know that their parents are observing from a distance. Furthermore, our classes are reviewed by our curriculum specialists and teachers with the help of AI technology. We use tech to refine our classes so that lessons are constantly evolving and improving to meet the needs of your child.
This is not to say there is no room for traditional classrooms in a kid's Chinese language acquisition today. The traditional classroom setting continues to be an important place to equip young learners with social skills, like making connections with their peers, sharing space and co-operating with others. At the same time, online learning platforms have evolved to a stage where they can effectively meet the young learners' individual needs in ways the traditional classroom setting have not been able to and will have a hard time catching up to.
Online cuts down unnecessary time spent on commuting to classes
Parents often face pressure to cram more into their day, leaving them exhausted and without anything left in the tank to give to their children. It is important then to reduce unnecessary activities in our time-starved, fast-paced society. Using online classes, time spent commuting and preparing to get to and from class is literally cut away. What a welcome relief to families! With the added time, parents can now focus more on quality bonding with their kids and extended families.